Introduction
Nowadays, whether it's a prominent company or a smaller startup, they always run their business through an app or are looking for an app to build. A wide range of people wonder how much does it cost to build an App in Hong Kong?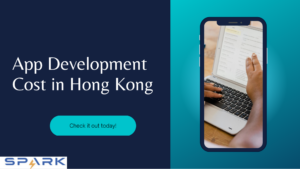 Well, estimating the cost of an app development project can be a complex task that involves several factors. Here are a few of the factors that can affect the cost of an app development project:
Planning: The planning stage involves defining the project's scope, identifying the target audience, and outlining the features and functionalities of the app. The complexity of the planning stage can vary depending on the app's complexity and size. This stage can also involve market research, competitor analysis, and project roadmap creation.
Design: The design phase involves creating wireframes, visual design for the app, and user experience (UX) design. This stage can be complex and time-consuming, as it consists of creating the app's overall look and feel and ensuring that the app is intuitive and easy to use.
UX & UI Design: User experience (UX) and user interface (UI) design are critical components of the app development process. UX design involves creating a user-centric design that makes the app navigative and easy to use. UI design involves designing the app's visual elements, such as buttons, menus, and other interface elements.
App Development: The app development phase involves coding the app and implementing the features and functionalities outlined in the planning stage. The complexity of the app development phase can vary depending on the app's complexity and size. The development process may involve creating a back-end infrastructure, integrating third-party APIs, and ensuring the app is scalable and secure.
QA & UAT: Quality assurance (QA) and user acceptance testing (UAT) are critical stages of the app development process. QA involves testing the app for bugs and issues, while UAT involves testing the app with real users to ensure it meets their needs and expectations. These stages can be time-consuming and may require multiple iterations to ensure the app is high quality.
Other factors that can affect the cost of an app development project include project management, documentation, communication, maintenance, and support. Each of these factors can add to the project's overall cost and should be considered when estimating the app development project cost.
A Few Basic Features of an App
The response to "How much does it cost to build an app in Hong Kong?" significantly depends on the features and functionalities you wish into your application. The basic app development cost for the type of app you desire to build keeps on rising with the addition of new features.
However, let us shed light on some of the standard features of an app.
Here are some common features that you might want to have in an app that includes user authentication, a news feed, attaching images, audio and video, and user profiles:
User authentication: This feature allows users to sign up, log in, and authenticate with the app. It typically involves creating an account with a username and password or using a third-party authentication service like Facebook or Google.
News feed: A news feed feature allows users to create posts, share information, and view updates from other users. This feature can include functionalities like commenting, liking, and sharing posts and can be customized based on user preferences.
Attaching images, audio, and video: This feature can make the app more engaging. It can help users to share their experiences more effectively. It allows users to attach various types of media to their posts, including images, audio, and video clips.
User profile: This feature allows users to create and manage their profiles within the app. This can include adding personal information like their name, location, and interests and managing their account settings and preferences.
Other features that are often included in apps with these functionalities include search and filtering capabilities, notifications and alerts, direct messaging, and social sharing capabilities. The specific features and functionalities included in an app will depend on the goals of the app and the needs of its target audience.
A bit More About the Complicated Features
There are a bunch of features available that require more working hours and a robust skill set. However, the complicated features are not mandatory for every app. For instance, a food delivery app must have the GPS feature to locate its customer geolocation and deliver the food. On the contrary, a video conferencing app may work significantly well without having the GPS feature.
Anyway, let us guide you through some advanced features and their app development costs.
Geolocation using GPS: This feature allows the app to track a user's location using GPS technology. This feature can be used to provide location-based services like mapping and navigation and personalize the user experience based on their location.
Image filters: Image filters allow users to enhance or manipulate their photos using various effects like color correction, brightness, contrast, and saturation. These filters can be complex and require knowledge of image processing and computer vision.
Video conferencing: Video conferencing allows users to participate in live video chats with one or more people. This feature requires knowledge of real-time communication protocols and can be challenging to implement due to the need for low latency and high-quality video and audio.
Artificial intelligence and machine learning: These technologies can be used to enhance the app's functionality by providing personalized recommendations, predictive analytics, and natural language processing capabilities. Implementing these technologies requires data science, machine learning algorithms, and cloud computing knowledge.
Augmented reality: Augmented reality (AR) allows users to view and interact with virtual objects overlaid in the real world. This feature requires knowledge of 3D modeling, computer vision, and AR software development kits (SDKs).
Some other complicated features might include. Offline data synchronization, real-time collaboration, encryption and security features, and third-party services and API integrations could be mentioned. These features require advanced technical expertise and specialized development teams or external consultants. Here comes the name of Spark Technologies – A trusted development company in Hong Kong, providing a top-notch app development service in Hong Kong and overseas.
App Categories
Mobile app development costs can vary significantly depending on the complexity of the app and the level of functionality required. The cost of an app starts to vary when you move from one category to another. When you move from one category to another, many features change, like the number of users, functionalities, security criteria, etc., ultimately leading to varying costs to develop an app. Here is a brief overview of some mobile app categories that are typically cheaper and more expensive to develop:
Cheaper Categories:
Informational apps: Apps that provide information on a specific topic or industry can be relatively straightforward to develop and may not require complex features. These apps may include news apps, weather apps, or educational apps.
Utility apps: Utility apps are designed to perform a specific task, such as a calculator or a unit converter. These apps typically have a simple interface and require minimal design work.
Simple games: Puzzle or arcade game is a great example of simple games. It can be less expensive than more complex games requiring advanced graphics and animations.
Expensive Categories:
On-demand apps: On-demand apps, such as ride-sharing or food delivery apps, require complex functionality like real-time tracking, payment processing, and user reviews. These apps often need a back-end infrastructure to manage requests and user data.
Social networking apps: Social networking apps require features like user authentication, messaging, and real-time updates. These apps can also require server infrastructure to support high traffic levels and user activity.
E-commerce apps: E-commerce apps require complex functionality like product catalogs, shopping carts, and payment processing. These apps may also require integration with third-party platforms like payment gateways or shipping providers.
Gaming apps: They can be costly to develop, especially if they include advanced graphics, animations, and game mechanics. Multiplayer games, in particular, can require a lot of back-end infrastructure to support real-time updates and user interactions.
It's important to note that the cost of building an app can vary depending on several factors. It includes the level of customization required, and the platform(s) the app will be developed for.
How Spark Technologies uses Flutter App development to reduce the overall cost and go live faster than native app development?
Spark Technologies is a software development company that provides mobile and web application development, IoT, and cloud computing solutions. Flutter is a well-known mobile app development framework that permits developers to create high-performance, cross-platform apps for iOS and Android.
Spark Technologies can reduce the overall cost of app development compared to native app development for both iOS and Android. This is because Flutter allows developers to write code once and deploy it on multiple platforms. Thereby reducing the development time and costs associated with developing separate codebases for each platform. It could cost around 60,000 HKD to build an App in Hong Kong with user authentication and a newsfeed.
In addition, Flutter offers a range of pre-built widgets and tools that make building high-quality, visually appealing apps easier and faster. This can help Spark Technologies to reduce the overall development time, as well as improve the quality of the app.
Furthermore, Flutter has a hot-reload feature, which grants developers to view the changes they make to the app in real-time. This can help Spark Technologies to iterate quickly and reduce the time it takes to develop and test the app, thereby enabling faster go-live.
Overall, Spark Technologies can leverage the benefits of Flutter app development to reduce development costs, speed up the development process, and go live faster than traditional native app development.